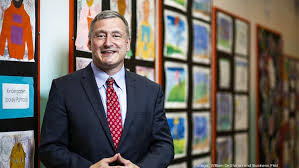 A chief academic officer is a key member of higher education management teams. They perform unique academic duties that benefit students and faculty as well as communities as a whole.
Work Duties
Chief academic officers work in collaboration with other leaders and administrators to maintain academic systems and problem-solve current challenges in the organization. They ensure that all programs, employees and departments meet performance outcomes and achieve student goals. They provide support and feedback to their team members and drive strong talent practices at their schools. Some chief academic officers are in charge of managing internal professional development programs for teachers. Others are involved with daily operations and the implementation of services, discipline and academic intervention programs. Most chief financial officers create development plans, implement sustainable budgets and support school leader development.
Expected Qualifications
Chief academic officers should have at least five years of hands-on experience in an education setting. Most have previous employment experience as school leaders. Chief academic officers are expected to have proven track records of raising student achievement and academic performance levels. They should be comfortable coaching adults and facilitating professional development programs. Many schools expect a deep commitment to effective education and administrative techniques. Strong analytical skills are needed to track and analyze data in order to uncover trends and create strategic plans to improve results. Chief academic officers must have the ability to communicate compelling feedback that impacts instruction, motivates management and accelerates achievement.
Required Education
While the educational requirements vary for each job, bachelor degrees are required for any position, but master degrees are preferred. Prestigious universities will expect chief academic officers to hold a Ph.D. or a Doctor of Education (Ed.D). Most chief academic officers hold a master's degree in the field of education, such as a Master of Education (M.Ed.)or a Master of Arts in Teaching (M.A.T.). MBA programs are popular, but other common business majors include finance or administration. Some chief academic officers also hold advanced degrees in the humanities, fine arts and social sciences.
Career Outlook
The Bureau of Labor and Statistics states that the career outlook for post-secondary education administrators is good. Specifically, the job outlook is expected to grow at nine percent. The average salary is approximately $90,000 per year. Many chief academic officers start their careers working in their universities' registrar or student affairs office. After a successful career, many transfer to a similar position and some seek presidency in their colleges. However, this requires advanced knowledge of risk, project and financial management. Chief academic officers must also excel at managing board, community and government relationships. Students who wish to learn more can visit the Association of Chief Academic Officer's website.
A chief academic officer is an important managerial member of many of higher educational institutions. To work your way towards holding this title, consider at least pursing a graduate level degree.