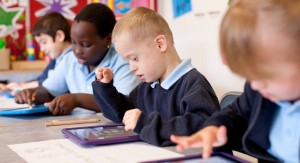 Individuals become special education administrators by following a predictable sequence of educational and professional pathways. Special education administrators bear the responsibility for overseeing all special education staff and programs serving eligible students with disabilities who attend public, or in some cases, private schools. They usually have backgrounds in teaching students with disabilities along with supervisory training and experience at the department or building level. As administrators in special education, they work closely with the superintendent and coordinate programs and services with other administrative supervisors of curricular programs.
Transitioning from Special Education Teaching to Administration
Special education teachers attend undergraduate and graduate programs that prepare them to teach in a variety of occupational settings. Jobs range from working with handicapped preschool through secondary populations in special education areas such as developmental delays, learning disabilities, behavioral or emotional disorders, intellectual impairments, speech and language development, hearing impairments, and autism. Certification guidelines for each state determine if a bachelor's or master's degree must be earned to teach in specific special education areas. Those interested in becoming a special education administrator must hold at least a master's degree and are encouraged to have special education teaching experience (also see: Top 15 Best and Most Affordable Graduate Educational Leadership Programs). Some districts may request that candidates for administrative posts hold a doctorate in special education, psychology or administration.
Types of Courses to Expect in Special Education Administrative Programs
Special education administrators must possess broad and deep knowledge about a field that covers many different types of disorders and disabilities affecting the educational progress of identified students. Coursework delves into:
-identifying research-based best practices for curricular instruction,
-working with innovative approaches to facilitate learning,
-coordinating services with regular education staff across subject areas,
-managing and training staff at all levels,
-adhering to legal standards defined by special education law,
-advocating strong ethical practices among staff,
-demonstrating support for teachers, students and their families,
-involving appropriate community agencies to assist with educational services,
-developing post-secondary education and career transition programs for students,
-and overseeing evaluation, identification and placement procedures for special education services.
Current Trends for Special Education Administration Careers
Special education administrators face many challenges to manage their programs effectively in today's educational climate. The U.S. Department of Education continually puts forth new policies and guidelines that all special education programs must strive to meet. Many deal with issues surrounding the best ways for special education students to access their curriculum. For example, special education administrators must be able to provide their staff with practical ways to balance the learning needs of students with adherence to current Common Core instructional principles. From a legal perspective, administrators must follow the Individuals with Disabilities Education Act and Title II of the Americans with Disabilities Act that speak to the civil rights of special education students to receive a free, appropriate education in the least restrictive learning environment. These acts address issues related to cultural diversity, due process rights for students and families, school climate and attitudes, and alleged discriminatory practices.
Special education administration candidates are required to pursue higher educational training and possess on-the-job experience that allows them to fulfill anticipated job requirements. For those with a passion for helping students with exceptional needs, becoming a special education administrator can create meaningful opportunities to improve programs, inspire teachers and motivate students to achieve their potential.