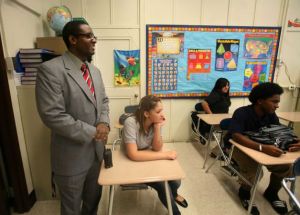 Future school administrators may find themselves wondering, "Will I need to find a position as an assistant principal before I become a principal?" and "Will other qualifications help me become a principal?" when beginning to pursue a career in this field. Opportunities to be a principal offer educational professionals a role that influences students, teachers, staff, and communities, and the right qualifications help prepare individuals to fill the role well.
Required Education
There are a number of factors that determine the base requirements for candidates to be considered for a principal role in an educational institution. One factor is whether or not the position is in a public or private school district, requiring any further adherence to state requirements for educators and administrators.
For most public institutions and districts, the minimum education requirement is a bachelor's degree in education. This degree helps administrators in school districts gain an understanding of the fundamental purpose of educating students and how to effectively do so. For many advanced degrees and licensing in some states, principals are required to have a valid teaching license, which requires completion of an undergraduate degree in education. In some cases, a district might also consider other bachelor degree graduates for these positions, such as those with a business administration degree.
For many positions, however, principals will be required to have a minimum of a master's degree (please see: Top 15 Best and Most Affordable Graduate Educational Leadership Programs), typically in a concentration such as educational leadership. Graduate degrees in this type of specialization offer advanced coursework in not only educational theory, but they also include the building of a foundation of knowledge in budgeting, community relations, and leadership. Advanced degrees beyond a master's can also be beneficial, particularly an educational specialist degree.
Work Experience
Like the educational requirements, work experience that gives a leader an understanding of the entire scope of the educational model is helpful. Therefore, candidates for principal positions are often required to have previous work experience as a teacher, lead teacher, dean of students, and/or assistant principal. With each of these positions, future principals gain an understanding of helping students succeed as well as develop skills in administrative tasks such as scheduling, evaluation, development of training materials and presentations, negotiation, conflict resolution, and more.
Additional Qualifications and Requirements
To set themselves apart from other candidates, future principals can also obtain professional certifications or complete professional development training. Additional information on these options can be found at the National Association of Secondary Principals website and the National Association of Elementary Principals. Many school districts also offer training certification programs for educational leaders to complete.
In many cases, holding a previous position as an assistant principal can be helpful when moving on to an advanced role. When asking the question, "Will I need to become an assistant principal before I become a principal," determining the specific requirements of a school district will lead to the best answer.